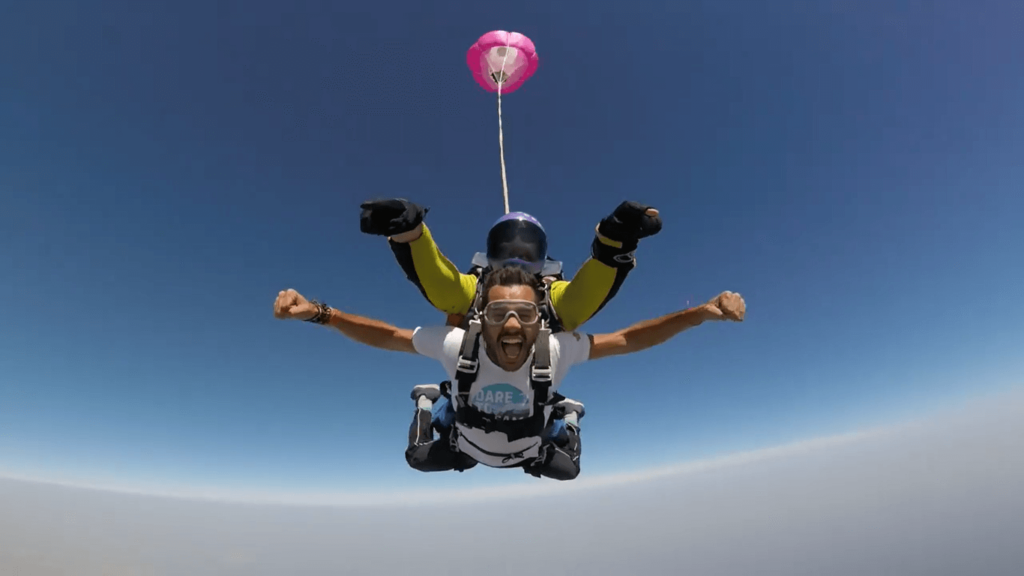 What does skydiving feel like?
So what does SKYDIVING feel like? Jumpers tend to experience a wave of rollercoaster emotions. From, Jitters and nerves before the jump to the adrenaline-pumping sensation of freefall. What does skydiving feel like? – it is more flying than falling really. Your senses will become alive, you feel free! While the adrenaline is still pumping, a peaceful ride back down to Earth under a large parachute.
Where do you Skydive?
We do not skydive in Malta. Malta does not have any airspace for this. We do Skydiving from Malta to Syracuse in Sicily, a great location with beautiful Mediterranean coastal views. On a clear day, Etna could also be visible.
What happens?
Skydiving from Malta takes us by ferry to Pozzallo followed by an hour drive to Syracuse. Once at the skydiving site, we will have a short pre-jump briefing. You will enjoy a 10-minute plane ride up 14000feet. You will experience the thrill of free fall for about 60 seconds at 220km/hr and paraglide for about 10 minutes where you can even learn the basics of steering and landing a modern 'square' gliding parachute, while securely attached to a highly experienced instructor. All you need to do is to smile and enjoy the rush.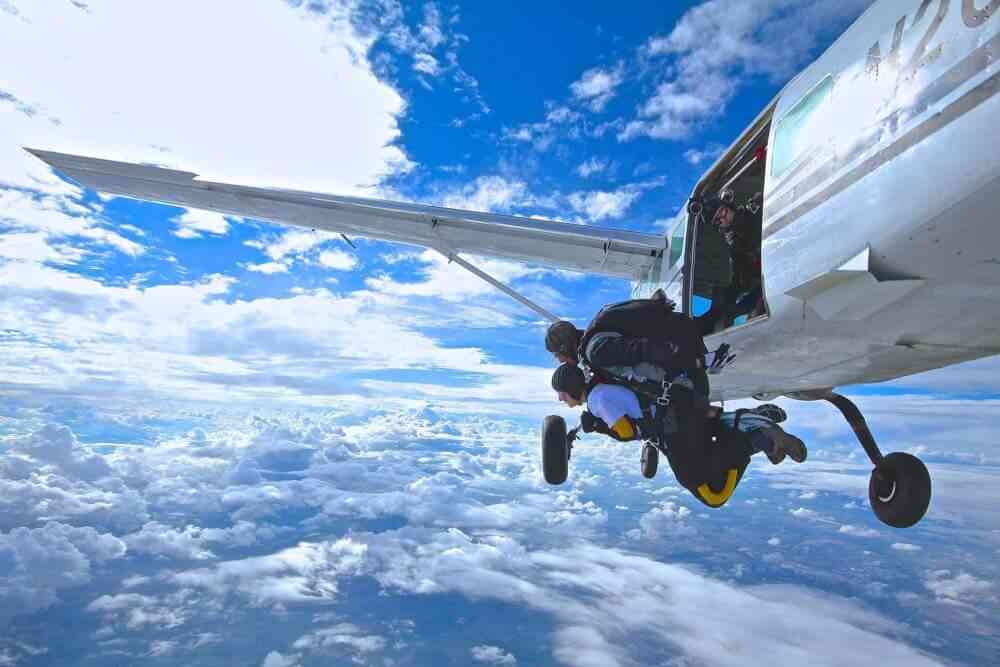 What is required?
You do not need any Experience and no Medical Certifications, only positive vibes.
What should I wear?
You will be provided with a skydiver's jumpsuit to go over your clothes, should you wish to wear one. You should wear comfortable clothing, such as a tracksuit for men and leggings for females and a pair of trainers. After fitting the tandem parachute harness (and appropriate headgear and goggles) you are ready to board the plane for the experience of a lifetime.
In the case of glasses/spectacles, we suggest a pair of contact lenses, but in case you will get a pair of goggles to cover your glasses.
Is the equipment safe?
On our Skydiving from Malta trip, we use a qualified skydiving centre. The skydiving centre, uses modern systems and Tandem parachutes, the most advanced in the world. All equipment is periodically reviewed and checked by experts certified by ENAC.
Who is my instructor?
All instructors are certified by ENAC and the Italian Ministry of Transport and followed, for their qualification, the best training, using the most modern techniques available.
Who can skydive?
From 16 years of age with parents consent. However, you have to be at least 18 to join our group. For the tandem jump, you must weigh no more than 110kgs.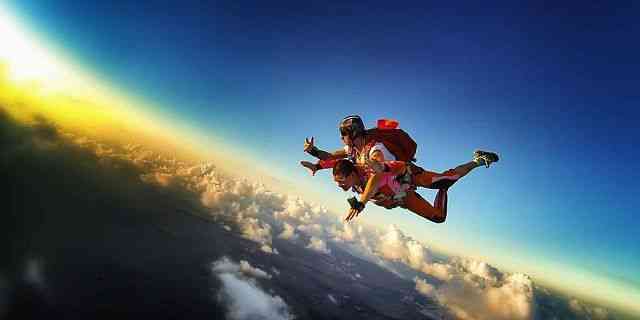 What about video and photos?
You cannot take your own Gopro but you can book a cameraman to jump with you and shoot the experience. The resolution of all the video and photos services are in Full HD. If you want the video or photos only it costs €50 if you would like to have both its €80.
Videos and photos are sent to your email address. The videos and photos will showcase your question – What does skydiving feel like? and you will have the skydiving feeling memories forever.
What is the itinerary like?
So we have answered many of your questions like What does skydiving feel like? Click here to find more info about the actual trip and itinerary of Skydiving from Malta trips.
What about my room during our trip?
The rooms on the trip will be twin rooms; meaning two single beds in the same room.
If you'd like to share the room with someone, in particular, let us know. If you are travelling solo on your skydiving from Malta trip we'll introduce you to someone of the same sex to share the room with.
Therefore, yes, coming as a solo traveller is perfectly normal in our groups.
We organize team-building events before the trip to ensure that a bond is created between all members of the group, even before the trip.
Contact us about Skydiving from Malta
I guess we have answered your question, what does skydiving feel like? So, if skydiving is on your bucket list it's time to check it off and we'd love for you to get in touch to help you #makeithappen.
Please click the button below to contact us with any more information you'd like to get or to make a booking.