The Maldives is known for its crystal – blue waters and white sandy beaches. Tours in the Maldives are a great getaway to enjoy a relaxed stress – free private friends holiday and enjoy the beautiful sea. It is the ideal place to travel for honeymooners, with its beautiful resorts and various water activities it is surely a great romantic getaway for any couple.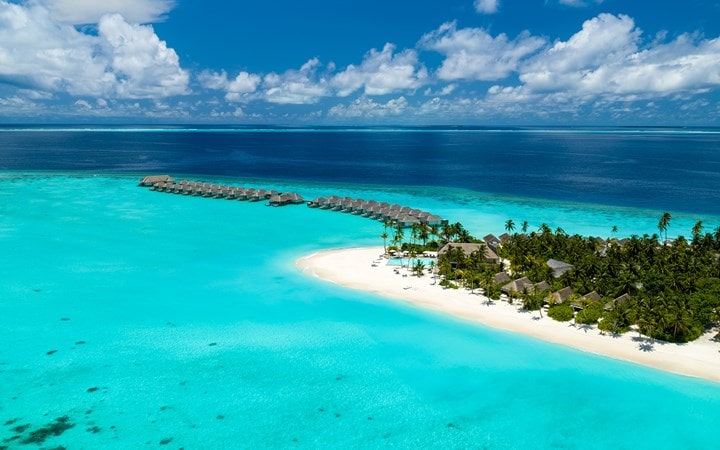 Visiting the Maldives is a dream destination and it can fit anyone's budget depending on where you go. Resort islands tend to be more expensive since they offer a variety of alcoholic drinks and have no restrictions. Whereas the local islands have Muslim rules and therefore no alcohol is allowed and they tend to have specific dress codes in certain beaches, and for these reasons, it is offers cheaper type of accommodation.
There are many tours in the Maldives one may take to make their holiday destination a memorable one. Some of the most popular tours include snorkeling with so many different species of fish and beautiful colored coral reefs, different types of water sports such as scuba diving, jet skiing and so much more.
Here is an 8 – day itinerary for a private friends holiday tour in the Maldives on a budget:
Day 1: Welcome to the Maldives
Arrival at Male Airport with Emirates on EK 658 at 09:30 am (flight details may vary according to flight schedule)
Transfer from Male Airport to your hotel on a local island. Transfer takes between 35 to 40 minutes by speed boat (as per boat schedule) depending on the island.
Check -in at one of the hotels of your choice. For the rest of the day you can choose from one of the many activities that the Maldives has to offer.
You can opt for the beautiful sunset fishing with Barbeque dinner. This is an ideal tour for those seafood lovers.
If you wish to stay for dinner at your accommodation you can have enjoy a delicious meal at the resort.
Day 2:Full day excursion in the Maldives
After breakfast, you can enjoy your day on a fun adventure trip starting from sand Bank for some beach activities, beach photography, swimming and canoe ride. After you can indulge in a delicious lunch in Sand bank or on the boat. After lunch, you will be given snorkeling equipment and enjoy snorkeling close to sand bank. Later on, sail to the dolphin channel to see some amazing dolphins.
Day 3: Explore Vaavu Atoll
After breakfast, around 08:30 am you will be picked up and start your day with this unique experience, and snorkel with nurse sharks, dolphins and dolphin watching, visit Fulidhoo local island, enjoy a delicious lunch which is also included in the tour. The tour takes approximately 8 hours.
After you can enjoy some relaxing time at the beach.
Day 4: Whale shark tour, dolphin sunset cruise
Early morning at 7:30 am, meet with your local guide and experience snorkelling with Whale sharks. It is definitely a great experience. You will have included snorkelling equipment, pictures and videos, lunch, fruits, towels, soft drinks and water. This tour takes around 7 hours.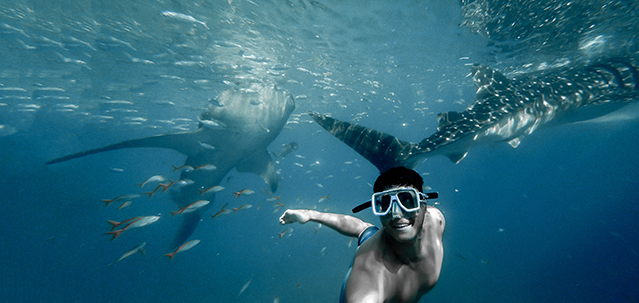 Day 5: Visit to Hideaways – Adaaran Select Huduvanfushi
After breakfast, enjoy the rest of the morning in an all -inclusive resort at Adaaran Select Huduvanfushi. Here you can make use of the different activities offered by the resort such as snorkeling, wind surfing, canoeing and indoor sports. They also offer exciting activities such as mid night fishing and photo cruises where spinner dolphins can be spotted.
Day 6: Snorkelling Safari
You can choose between morning and afternoon to enjoy this 3- hour snorkeling adventure.
After breakfast, transfer to Hulhumale Jetty and board a speedboat that will take you to the best snorkeling spots. During a snorkeling trip you may see manta rays, reef sharks and sea turtles.
Enjoy the rest of the evening relaxing at the resort.
Day 7: Free day at leisure on your private friends holiday in the Maldives
This day is a more relaxing day as you get to enjoy your resort, swim, sunbathe and do any activities that are offered on the day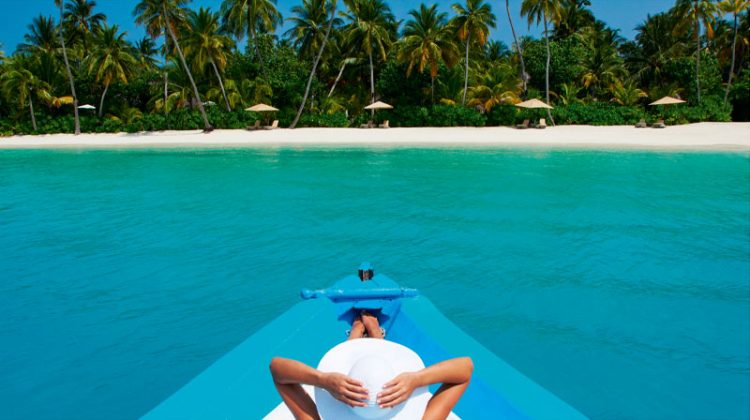 Day 8: Transfer to Male airport
On your last day, it's time to pack your bags and enjoy the rest of the day free at leisure.
Transfer from Maafushi to Male airport by speed boat.
Depart Male Airport with Emirates airlines on EK 653 at 23:00 hrs (flight timings may vary according to flight schedule)
This holiday is a great way to enjoy the magnificent marine life and crystal -clear ocean waters of the Maldives from the comfort of your luxurious hotel. It is an ideal holiday for those who love the sea and want to enjoy the beautiful beaches, fun adventure tours and simply relax. It is ideal for romantic get- away as well as families who just want to relax from all the hustle and bustle and enjoy family time together.