Visa
Maltese national passport holders do not require a visa to visit The Philippines for stays up to 30 days.
Time Zone
The Time is used with a GTM+8.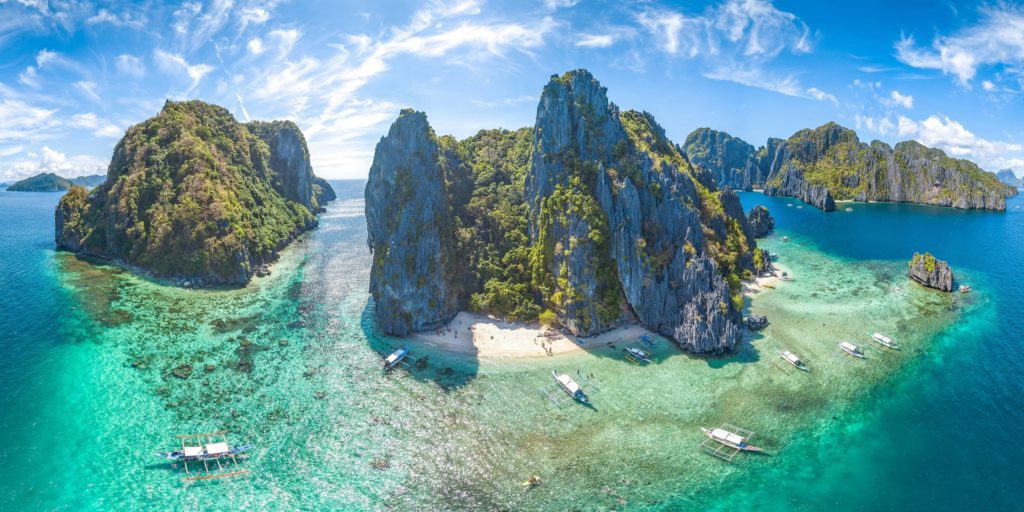 Best time to go on Tours in the Philippines
The Philippines have a tropical climate which means that they have a dry and a wet season, rather than the four seasons we are used to. The dry season usually starts from December up till May with clear sunny days and calm waters perfect to explore these beautiful islands and join the famous boat tours.
Vaccines
It is very important to make sure that all the required vaccinations have been taken otherwise make a plan as some of these needs to be taken even 3 months prior to your departure. Be responsible, stay healthy and safe. 
Currency
The Philippine Peso (PHP) is used throughout the country. Cash is king in the Philippines and Euro can be easily exchanged once you arrive at the airport with no commission fees. Banks also exchange money without any additional fees. There are a few ATMs throughout the islands but most incur a withdrawal fee. 1 EUR gives you around 57 PHP.
Food
The Filipino cuisine is clearly influenced by American and Asian cuisines. Servings can be on the small side but they are always accompanied with white sticky rice. Dishes like home made soups, noodles, stir fry chicken and pork can be salty and spicey, while fresh fish is usually barbecued along with fresh seafood. Don't forget to try their local lechon (roasted pork/chicken with special spices). Enjoy fresh mango and kalamansi (a citrus fruit between lime and tangerine) juices and also the famous buko (fresh coconut).
Country Top things to do by interest
Nature
A holiday in the Philippines is all about nature. You get to spend days on their traditional bangkas (boats) sailing the clear crystal waters between islands, stopping on white sandy beaches, experiencing colourful corals and fish by snorkeling in Palawan and Balicasag Island, swim with thousands of sardines in Moalboal, spot sea turtles while swimming. You get to experience spectacular sunsets from practically every beach. It is truly a tropical paradise with white sandy beaches lined with hundreds of coconut palm trees which continue to align the streets throughout the entire islands.
Beaches, Swimming & Relaxing
Whether you want to swim all day, soak up the sun on a white sandy beach or relax under the shade of a coconut palm tree, these beaches have it all. Beaches like Corong Corong and Maremegmeg in El Nido are perfect for that sunset drink with your feet in the sand. Further North, Nacpan Beach offers kilometers of white sand beach and palm trees. Boat tours leaving from El Nido will take you to secluded beaches and sand bars, where you will be swimming in turquoise waters and snorkel with colourful fish.
Nature & trekking
Whether you want to climb the over 700 steps to get the best view of Coron from Mt Tapyas or hike down the hidden waterfalls, you'll be going into lush green countryside touched with vivid flowers, lined with endless rice terraces. The Bohol Chocolate Hills are another spectacular view to observe.
Wildlife
The wildlife in the Philippines is more about the sea creatures. An early wake up call can give you the opportunity to spot some dolphins. Your snorkel will be your best friend on this trip as the opportunities to swim and see diverse tropical fish and sea turtles are endless. In Bohol on the other hand, you will have the opportunity to see up close the small bug-eyed tarsiers in their natural habitat.
Sightseeing
Get on a bangka (traditional boat) or into a kayak and explore the turquoise waters which contrast with the black limestone escarpments forming thousands of islands. On land, take a jeepney ride or a tricycle ride through palm tree lined streets and rice terraces all along the way.
Shopping
If you would like to spend some time in shops, cities like Manila and Cebu are your best bet. On the other hand, the islands have only local shops and street vendors selling mainly anklets and beach stuff.
Adrenaline
There are various zip-lines which one can experience on different islands. Zip-line from one island to another in El Nido or else ride a bike and zipline on it in Bohol with the Chocolate Hills as a backdrop. For the more adventurous souls, Kawasan Falls will be your highlight as you can canyoneer all the way down the river with various drops, jumps and waterfalls.
Local Living Experiences
While home-stays are not that common in the Philippines, you'll get a very good idea of the filippinos way of living just by exploring the islands. Get ready to plenty of hellos from children running in the streets or going back home on foot from school. Ladies washing their clothes by the rivers and others selling snacks and food by the street will all welcome you with smiles. Local fishermen are seen on almost every beach.
Culture
In Bohol, specifically on the Loboc River, one can experience the local dance by native people. The filippinos are mainly catholics so fiestas are common throughout the villages. On certain beaches, you'll see filippino families gather under gazebos and barbecue their freshly caught fish to share it with all the family.
Children Theme Parks
The Chocolate Hills Adventure Park in Bohol has some zip-lining and canopy walks in the middle of the jungle.