Discover quad biking within the vast territory of Sicily, a stone throw away, easily accessible by crossing over with the Ferry. Tours of Sicily will be a great adrenaline experience through the beautiful Sicilian landscape and more while experiencing an amazing friends holiday in Sicily.
Upon arrival at the Port for your friends holiday in Sicily, you either make your way to the meeting point or else you can book a private transfer.
A typical Quad bike tour will start with meeting up with a friendly and experienced guide who will be giving you a brief explanation of the tour. The tour duration, how to handle the quad bike, the places you will visit and things you will be doing throughout this tour. Each trip can be considered to be easy and suitable for everyone. During this trip, you are normally followed by 2 guides, who will be in contact with each other via Intercom. One guide will be situated in front while the other guide will stay at the back.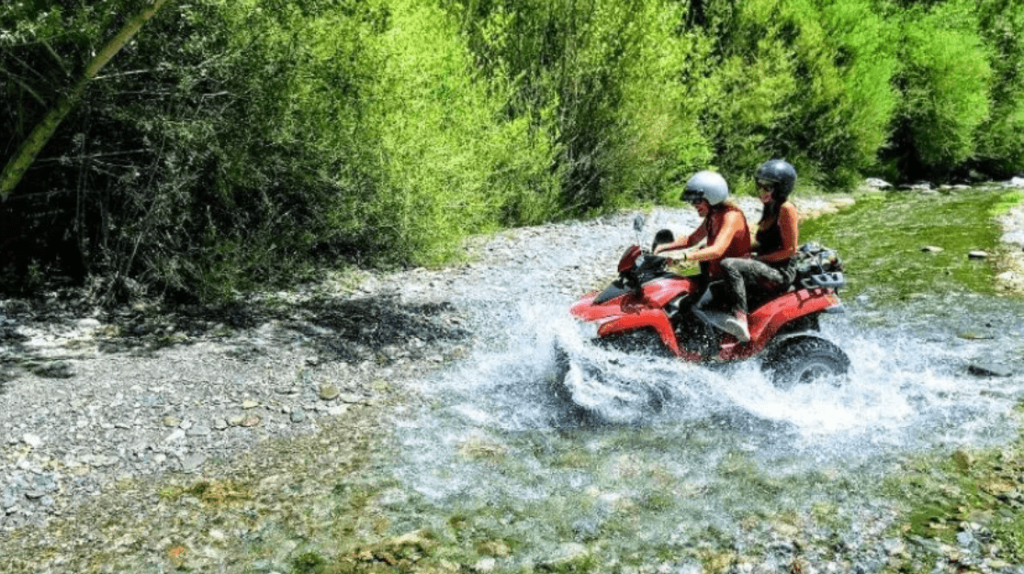 An unforgettable thrilling friends holiday experience, along the off-road tracks and untouched nature of Etna where you will see some of the most extraordinary spots in the area of Etna. This half-day tour will take approximately 4.5 hours. Meet up at the Botanical Gardens of the Gole dell'Alcantara, in Motta Camastra. You will leave from the Alcantara Gorges "Gole", drive through an off-road and photographic footstep following dirty tracks and nature paths towards Castiglione di Sicilia, famous for its winemaking and panoramic valley views. You will continue on a bike trail to Linguaglossa, from here you will be able to see the little volcano of Moio Alcantara, Etna's distant crater from the epicentre. You will then continue the journey driving along the way experiencing the possibilities to see lava flows formed during numerous eruptions, before arriving at the Coruccio cave, and then Piano Provenzana at an altitude of 1,850m.
Each quad bike can carry a maximum of 2 passengers. For you to be able to drive the Quad, it is important to hold a valid ordinary driving licence B. Please also note that the duration of the trip may change always depending on the environmental surroundings.
Once the trip ends, you will have some time to have a quick bite to eat, maybe a glass of wine, or a refreshing beer.  One can also opt for a quick stop at a Centro Commerciale before heading to the port to return to Malta. A great 1 day friends holiday in Sicily to break your week. If you'd like to end with a bang, you can also add a quick skydiving experience!