Turkey is a great destination for a private family holiday. Cappadocia is only a short internal flight from Istanbul and is the perfect destination to spend some quality time with your family and teenage children on one of your Tours in Turkey. Cappadocia is famous for its fairy-like chimneys in which ruins, churches and also hotels stand. It also makes it a perfect holiday with your teenage children since it offers a lot of fun and adventure ensuring they will not get bored. We believe that this itinerary will offer best short yet adventurous holiday for the perfect private family holiday with your teens.
Here is a 5-day itinerary on how to spend your private family holiday.
Day 1: Welcome on your Tours in Turkey
On arrival to Istanbul you might want to find the next connecting flight to Kayseri or Nevsehir. Both airports are in the vicinity of Goreme in Cappadocia. From here your driver will pick you up to take you to your cave hotel in which you can settle down and refresh.
In the eve you can enjoy the pretty town and indulge in your first Turkish meal.
Day 2: Explore Cappadocia
If you are up to it don't forget to wake up as early as 5.30am to witness the skies soaring with colourful hot air balloons from your hotel's roof top.
After breakfast, today, enjoy a hike through one of the valleys of Cappadocia, Red or Rose Valley or perhaps Pigeon Valley. Along the way, you can see the church ruins in fairy chimneys.
 In the afternoon you can explore these pretty village surroundings on horseback. You can opt for a 2 hour or a 4-hour tour to explore the valleys.
Later you can opt to explore Goreme's bazaar. Don't forget to climb to the panoramic point to watch the sunset.
Day 3: More of Cappadocia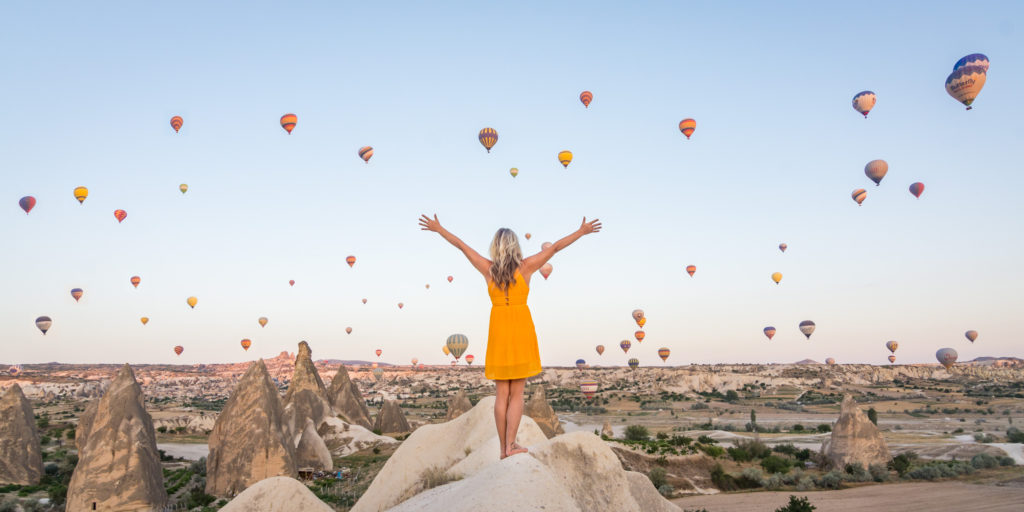 An early wake-up alarm calls you to explore Cappadocia from the skies in a hot air balloon. A wonderful experience for the whole family as you see the valleys from above, see the skies full of balloons and enjoy the ride.
In the late morning, you can enjoy the open-air museum and the underground museum to see the historical side and get lost in its maze-like structure.
Day 4: Ihlara valley
Today's trek will take you outside Goreme to Ihlara Valley. This 150m deep and 15km long canyon will make your perfect day trekking in nature alongside water stream.
In the afternoon during sunset time you can go on top of the valley at the panoramic sunset point to enjoy a drink while watching the sun kiss the day goodbye.
Day 5: Goodbye to Cappadocia
After a great 4 days on your private family holiday in Cappadocia it would be time to say goodbye. From here you can opt to go home or extend your holiday to an extra two days in Istanbul to further make your tours in Turkey a meaningful one.
To see the day fade away beautifully in this town you will witness the sunset from the panoramic view over the valleys.