Vietnam is well known for its beaches, rivers, Buddhist temples and the busy crowded cities.  Situated at the South China Sea, we can say that tours in Vietnam are safe to go on and you can also join group travel. A land of astonishing natural genuine beauty and cultural characteristics of the dynamic metropolis and hill-tribe ethnic groups.  Vietnam is both glamourous plausible and fun country.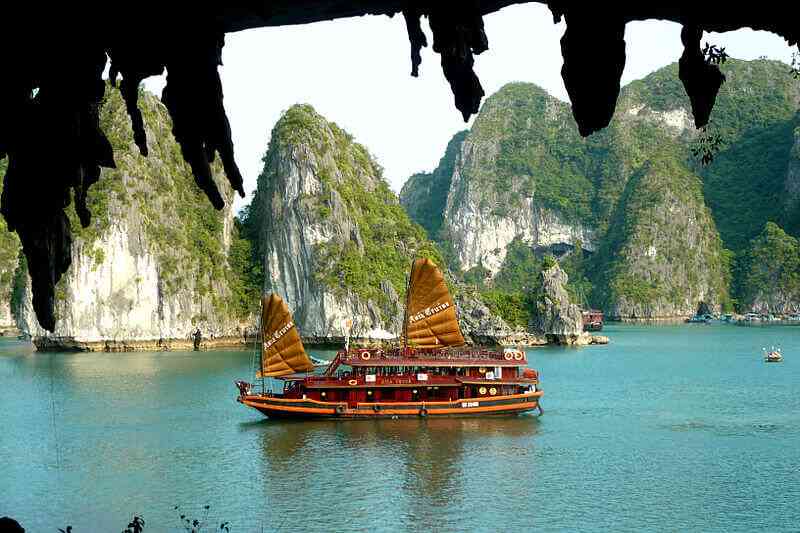 Visa
You need a visa to enter Vietnam. Visa can be obtained upon arrival for those travellers arriving by air. The approximate cost for this is 25USD per person, to be paid in cash. It is also recommended to take along 2 passport size photos s, however, it will also be possible to take photos upon arrival at a cost of 5USD per person.   Passport must be valid at least 6 months beyond your stay in Vietnam. There is NO OFFICIAL website for visa on arrival service you can easily look it up through this link.
Time Zone
Vietnam uses the Indochina Time (ICT), which is basically seven hours ahead of UTC. The ICT is used all year round.
Best time to go on Tours in Vietnam
Weather varies in Vietnam due to its huge areas. The temperatures through the northern areas is an average of 20°C. December is one of the driest months of the year in Hanoi and the north. Weather conditions improve in the central regions with beautiful and warm days with an average temperatures of 24°C. Rain however is to be expected. It might get chilly at night. On the other hand the southern areas have the best weather conditions throughout the year with blue skies. Ho Chi Minh City has low humidity and enjoyable weather with an average temperature of 26°C.
Vaccines
The yellow fever vaccination is recommended. You might also be asked for proof of this eventually if you happen to have visited another country in the yellow-fever zone within the last six days of entering Vietnam Be responsible, stay healthy and safe. https://wwwnc.cdc.gov/travel/destinations/list
Currency
The official currency of Vietnam is the Vietnamese dong (VND). Because the dong is tied to the US dollar, you can also use the USD currency when shopping. One can easily exchange currency upon arrival at one of the exchange bureaus or through the ATM's machines situated at the airport. All major credit card can also be used.
Food
Prepare to be astonished Vietnam's cuisine. The country a full selection of tasteful eating from street stalls to exclusive dining,  Due to the vast landscape with combined highlands, rice fields, celestial, coasts and mountains all contribute a delicious food variety.  The back street markets full of food stalls will definitely bring the taste of authentic Vietnamese food.
Country Top things to do by interest
Nature
Phong Nha-Ke Bang National Park has the oldest range of mountains in Asia, formed approximately 400 million years ago. Mysterious and still raw hundreds of caves. Some with amazin scale and length. Others with underground rivers. Phong Nha is an explorer heaven on earth.
Ninh Binh is a good base for exploring classical Vietnamese limestone scenery. Very few tourists pay a visit, but quite a big number of Vietnamese people visit the nearby sights, including the nation's biggest chappel. .The region has outstanding natural beauty.
Stretching along Halong City, which is also know as Bai Chay, is the bay's main gateway. Visitors normally opt for cruise tours including sleeping on board. .
Beaches, Swimming & Relaxing
An Bang is one of the most enjoyable beaches in Vietnam. Found in the center of Vietnam and only a few kilometers away from the famous town of Hoi An, with its finest, extensive sandy beach and extended horizon with interrupted seaside symmetry. A stunning way to relax and enjoy the beautiful sunset.
Phu Quoc is an island off the south of Vietnam, primarily popular of its dense tropical jungles hanging over white sandy beaches. It's hard to get to but once you do, you can enjoy a fresh swim, relax, snorkel and enjoy a cocktail on the beach while witnessing the sunset.
Nature & trekking
Sapa is most famous for its nature and the trekking that can be done in the area, around the spectacular rice fields. From easy to harder treks this area not allows you to hike but also to get a feel on the local agriculture.
Ninh Binh is famous for the limestone scenery. You can trek the rice fields in the area and climb 500 meters to the dragon temple of Hang Mua.
Phong-Nha is a designated a UNESCO World Heritage famous for the oldest karst mountains in Asia with hundreds of cave systems. A great area which one can go trekking to explore its raw nature.
Sightseeing
Ho Chi Minh is a great sightseeing area. With the Mekong Delta river being a two-hour drive away and the Chu Chi tunnels an hour away its a great base to see these famous spots while on tours in Vietnam.
The Mekong delta is a great river where one can witness the traditional Vietnamese floating market even though vendors are modernly preferring to have their stall on land. It's a great site to see and explore by long tail boat.
The Chu Chi tunnel's on the other hand are a historic area where one can learn about the civil war. Once can crawl into tight spaces and can fire a real AK47.
Hoi An is one of our favourite towns to visit. With its colourful lanterns along its streets, its flowing river, Chinese temples and old town architecture, this town has everything to make it on the list while on torus in Vietnam.
The Golden Bridge in Danang hill is only an hour away from Hoi An and has become a social media sensation since it has been built very recently. With a 150-meter bridge held by bronze hands of God, its definitely a picture-perfect spot to visit.
If you love history and architecture than Hue is a great place for sightseeing. From king's tombs, to old palaces, Pagodas and old ruins, this is definitely a fascinating site.
Being a very busy hustle and bustle city Hanoi, has its fair share of interesting places to visit, including temples in the old quarter of the city, the temple of literature and the Mausoleum.
Shopping
People can't help but shop till they drop while in Vietnam and we can't blame them as everything is so cheap and at good quality. Bargaining is also expected while shopping. You can buy from high end silk items to, traditional handicraft, art and jewelry.
Adrenaline
Ziplining is one of the most amazing adrenaline activities one can do in the Dark Cave in Phong Nha. You get to zipline across the river. Where you get to entre the cave, walking through narrow windy cave system until you get to the mud pit that has been there for millions of years. You can enjoy a mud bath and later wash it off with a nice fresh swim in the river. You can cross the river back using rafts. One can also push his adrenaline rush at the obstacle course over the river.
Cycling in rural area of Hoi An is a great adrenaline experience and an amazing way to explore the rural part of the town. While on tours in Vietnam, exploring the rural part of Hoi An do not forget to take a coconut basket ride and allow the local to spin you around for some adrenaline.
Local Living Experiences
Local living experiences while on tours in Vietnam include learning and participating in the agricultural skill of the rural tour in Hoi An, where you get to plant and water the crops. 
Eat like a local by visiting the local street food markets where the actual locals dine out. This is a tactic you should use throughout your travels, if you see a place full with tourists then run away, on the other hand embrace a place where you feel the odd one out.
Culture
Vietnamese culture is greatly influenced by the Chinese and has also the French influence from their colonization. Their main three religions are Buddhism, Taoism, and Confucianism. Their culture is rich in local traditional arts and crafts.
Cuisine
Vietnamese food is delicious and features a mix of Chinese flavours, and considered one of the healthiest cuisines worldwide. With rice being nearly always on the menu it is always offered with different delicacies including chicken, meat and different vegetables. Traditional Vietnamese cooking is greatly admired for its fresh ingredients, minimal use of dairy and oil, complementary textures, and reliance on herbs and vegetables.
One of the best ways to enjoy a mix of Vietnamese palate is to indulge in the street market food vendors where each and every one will be serving something different and you can taste some of all.
Children Theme Parks
Sunworld in Danang, is situated on the hills of Ba Na hills and offer a beautiful view. This amusement park is a children's park as well as it is suitable for adults. This park is where the most recent Golden Bridge is also situated. Sunworld is an amusement park with a massive Ferris wheel as well as other rides like a roller-coaster.  Definitely, should be visited while on tours in Vietnam with children.